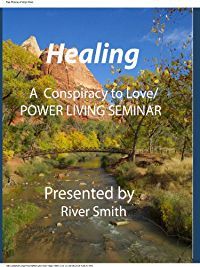 This Power Living Seminar presentation, based on Dr. River Smith's book, A CONSPIRACY TO LOVE: Living A Life of Joy, Generosity, and Power, is designed to help us transform our pain and struggles into healing energy for ourselves, our families, and our planet. 

A social justice educator/activist and psychologist in private practice specializing in trauma, relationship, and organizational healing, River Smith is an experienced and entertaining speaker and workshop leader. This talk demonstrates that. 

River Smith is available for Power Living presentations that include Adventures in Assertiveness, Power Management, Power Joy, Power Love, and Power Eating.